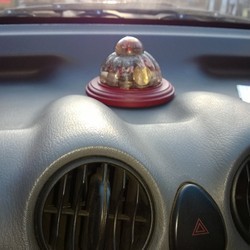 Car EMR Protector
Product Description
We are manufacturing, exporting and supplying a high quality assortment of Car EMR Protector. The provided electromagnetic radiation neutralizer protector is designed under the strict observation of our adroit professionals using supreme quality basic materials and latest technology in compliance with the international quality standards. This EMR protector is used for eliminating all the noxious energies created by car electrical system. Furthermore, this Car EMR Protector can be availed by our highly valued clients at pocket friendly prices.
Features:

Light weight

Perfect finish

Graceful look

Intricate design
Details:
Flood your car with a cocoon of mind-calming, body fortifying blue orgone energy- it's literally lifeforce on tap!
The Car EMR Harmonizer is a totally portable Electromagnetic Radiation neutralizer which eliminates all noxious EMR energies caused by the car's electrical system,the back seat area over the fuel tank ,and also ELiminates the depleting effects of other outside noxious energies such as Earth MAGNETIC grid lines that you are exposed to while driving.
The EMR field produced by the car's electrical system totally engulfs all occupants,placing them in a dangerous positive ion field which deprives its occupants of oxygen and depletes them of energy and may cause nausea and fatigue. Concentration levels of the driver may also be affected by these noxious energies.
The frequency of earth Magnetic grid lines that pass under the car while driving also has a debilitating affect on the occupants which an exacerbate the already noxious energies within the car.
The area directly above the fuel tank ,because of the noxious resonance of the petrol in the tank ,creates a major problem to the well being of the back seat passengers. The car harmonizer addresses this problem by raising the vibration of the petrol within the tank to a negative ion resonance ,thus eliminating the energetic problem.
Where to place in your car?
Most cars have a spare tire in the trunk, which is also quite a good spot to place orgonites, they won be too far from the trunk and its easy to lock them in place under the tire. The best effects, we believe, are obtained by induction, hence don put the orgonites in direct contact with the metal of the car, put them in a plastic wrap or something that is an electric insulator. Just look around in the trunk, there are always places to put small things like orgonites not too far from the tank, by looking under the carpets and fabrics, there always space.

Large orgonite for Big Cars of This is about 2kg, double induction, with a copper tube in the middle for the induction. (MADE BY ORDER).

Other Information:
F. O. B. Price Order: 100 USD