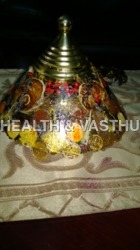 Geoapthic Stress Pyramid
Product Description
8 inch Orgonite pyramid weighs 5kg assisting you in geopathic stress zone correction at earth energy level of your house,office etc. Heals sick building and sick people.Helps protection from negative energy. New release from lifehealthenergycenter Chennai,India.
Geopathic stress is a relatively new term that covers the relationship between earth energies and people's well-being. "Geo" obviously means "Earth" (or "Land"). The term "Pathic" is a very interesting one. It indicates both a disease, as well as a cure for disease. The most accurate definition of geopathic stress is the study of earth energies and their effect on human well-being... Simple definition is it is a term used for the presence of unhealthy Earth energies that are present in all living spaces.
Does your house make you feel sick or depressed?
Do you suffer from headaches or fatigue in an office environment?
Do you have trouble sleeping?
Is there a room or space in your home that feels heavy and sickly?
Do the energies in your home or work support your health?
Are you being frightened by paranormal activity at night?
Have you been diagnosed with Electro-hypersensitivity?
Do you feel lethargic or lack drive to perform the simplest of tasks at home?
Time to have Consulting Service for Geopathic Stress, Electromagnetic Radiation, Sick Building Syndrome and Paranormal Interferences.This pyramid are supposwd to be burried at the geoapthic stress zones detected by Energy Vasthu consultants
Other Information
Pay Mode Terms: T/T (Bank Transfer), Western Union
F. O. B. Price Order: 50000 INR
Minimum Order Quantity: 1 Piece
Port of Dispatch: chennai
Production Capacity: daily 10 units
Delivery Time: within one week
Packaging Details: special cardboard pack