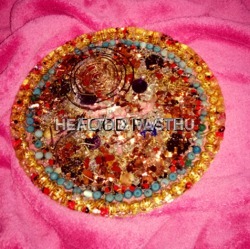 Orgonite Ion Food Rejuvenation Plate
Product Description
Food rejuvenation plate (to improve taste); This is the same as the coaster, just much larger and more powerful. Charges everything faster including large pitchers of water or whole plates of food. All of our orgone generators emit Far-Red Infrared Radiation.This Rejuvenation Disk is a very powerful total solution space clearer converting all known noxious Positive Ion energy fields to a healthy Negative Ion resonance. They will also protect the item placed upon it against radiation and given the correct situation this will be very beneficial.
You can use this disc for clearing and charging Water, Food, Herbs, Oils and supplements. Body lotions, tonics and shampoos improve their effectiveness after being charged and the residual energies have been removed with the disk. This charging disc is versatile as you can place anything you require clearing or charging on it such as Crystals, Rings, Bracelets and Pendants onto the surface.
Orgone charged water tastes softer and slightly sweeter and is noticeable by its energized feeling in your stomach, and also improves the taste of other liquids such as juices and wiines, along with food.
Each charger includes healing magnetite, water energy mandalas,100% pure copper coils, gold coated yantras,Bross metal shavings and crystals like Amethyst, herbal granules,Obsidian, Blue Kyanite, Selenite, Jade, unpolished natural Quartz crystal point, ,and Hematite. This combination of crystals will help the disc self clearing/charging and will immediately charge the object placed upon it with high frequency Orgone energy. Customers have advised me that once they place oil's and herbs upon the disc they have noticed a difference in energy.
Other Information
Pay Mode Terms: L/C (Letter of Credit), T/T (Bank Transfer)
F. O. B. Price Order: 4500 INR
Minimum Order Quantity: 1 Piece
Port of Dispatch: chennai
Production Capacity: 6
Delivery Time: within one week
Packaging Details: special thermacol pack